I continue the earnings reports series with the leading Internet television network, Netflix. In a former article about Netflix, back in November, I said that I expect the stock not to go under the support area from $324 until February and with a couple of days until then the price is around $323, which was a pretty close forecast. Before going into the earnings report specifics, let's take a look at some statistics.
According to NPD's "The State of SVOD" report, 32 percent of U.S. households were subscribed to premium-TV channels in August of 2013, compared to 27 percent of U.S. households that subscribed to SVOD services. Netflix remains the clear leader in SVOD (subscription video-on-demand).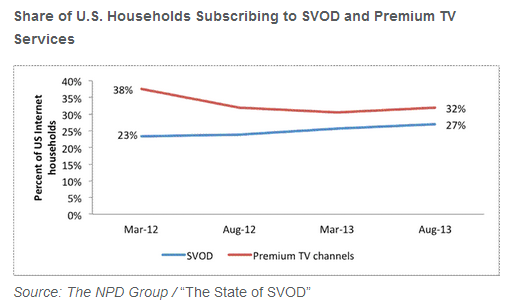 Also, Netflix is now available on yet another device. A video service launched an app on TiVo boxes leased by a Swedish pay TV operator, where results from Netflix's local catalog are now being displayed alongside live TV programming.

Speaking about quarterly earnings, Netflix managed to surprise investors, in a "profitable" way, for the most recent four quarters. On the other hand, on a percentage basis, the surprise factor has been constantly decreasing and it wouldn't be a shock if these time the surprise to be negative. The consensus EPS for the last quarter of 2013 is $0.66.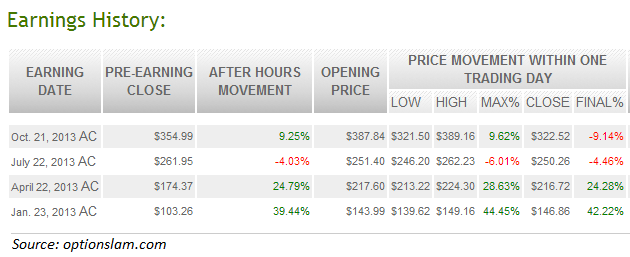 The important thing is that Netflix has a "habit" of moving quickly and on major volume post-earnings. Whether the earnings will surprise the market on a positive or a negative note,  we're likely to see some major volatility in Netflix.
On a daily time frame, Netflix post-earnings evolution if the EPS is better than the consensus could be marked by a +10% rise of the share towards the resistance zone from $348-$353, which is also backed up by a 50 day EMA. Conversely, a disappointing EPS could drove the price under the support line from $319 and heading towards the 50.0 or even 61.8 Fibonacci level, with the mention that the 61.8 one has an important psychological meaning because the 200 day EMA is hanging around this level.
Netflix Reports, Are You Ready For High Volatility?
by
Alin Rauta