If you are interested in forex scalping and you are a beginner, read our Forex Scalping – Complete Beginner to Advanced Strategy Guide to understand the concept. If you past the first steps it's time to Choose The Right Broker For Scalping and also the best Currency Pair for your simple forex scalping system.
The strategy presented in this post it is one of the simplest and it can be used on currency pairs with medium volatility and low spreads like: EURUSD, GBPUSD and USDJPY. The recommended time frame is 5 minutes. The systems is a combination of candlestick patterns, which offers reversal signals, and the Relative Strength Index (RSI), which announces market exhaustion in overbought and oversold signals.
The candlestick pattern preferred for this scalping strategy is the Shooting Star. It announces a reversal of the power from the bulls to the bears. This pattern should be searched only on the highs of a trend, it is a bearish signal and it doesn't matter the color of the candle.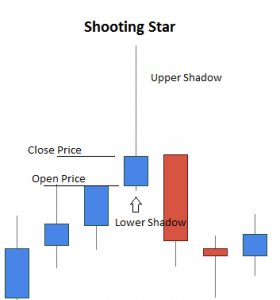 The RSI used it is recommended to have 14 periods. If the number of periods is too small it will give many but of low quality signals, while if the number of periods will be higher the quality of the signal could improve, but the number will drastically drop.
Let's get to the practical part of the trading. There are 2 scenarios that you could look for:
Previous << What Are The Most Profitable Currencies for Scalping <<
Next >> Advanced Forex Scalping Bollinger Strategy >>
Simple Forex Scalping Strategy For EURUSD and GBPUSD
by
Alexandra Tarlia