The United States Congress got to an agreement on the debt ceiling, avoiding this way a default of the country. Yesterday the government was restarted after a two week partial shutdown. The markets became euphoric and investors started to sell safe havens for riskier assets. The dollar was sold quickly and the selling accelerated when Dagong, a rating company from China, downgraded the United States to A-.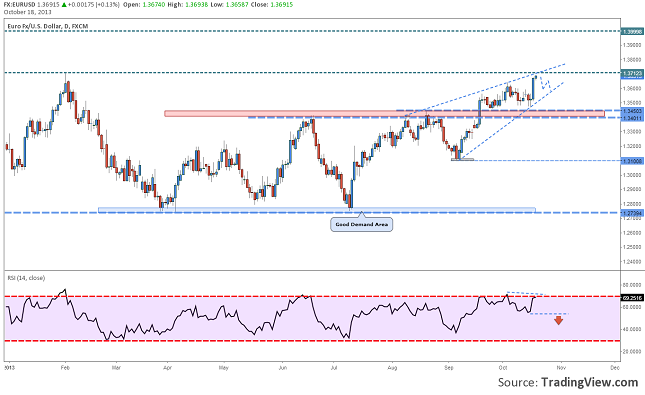 Chart: EURUSD, Daily
EUR/USD rallied yesterday from 1.3515 to 1.3670 in several hours, hitting a new high for the past eight months. The price is very close to February's high, 13710, and the price action is signaling a reversal. The Rising Wedge drawn during the past weeks might find a new high near this level. From here I expect a short correction, before a break above the resistance.
Next week on Tuesday the Non-Farm Payrolls are scheduled to be published on the economic calendar. If the labor data from United States will disappoint the market, we might see another big fall for the dollar because the Quantitative Easing will most probably continue even after Ben S. Bernanke will leave Federal Reserve.
EUR/USD Technical Overview before the NFP Release
by
Razvan Mihai