It has just past a very intense week for the EURUSD investors. Beside the macroeconomic indicators that were published, Draghi had some interesting answers for the press.
The Manufacturing PMIs published for Europe was above expectations while for USA had come under the market estimates. The Spanish Unemployment change surprised with a fall of 98.3K and the good news kept on coming for Euro Area. Spanish services PMI got to 47.3 from 44.4, German Trade Balance got to 17.7 and the Retails Sales gained 1.8% while the estimates were of stagnation.
Thursday after the ECB announced that they will keep the interest rate at 0.50% for the moment the market became very volatile, especially during Draghi's press conference. He said that they thought of cutting the interest rate some more and even at negative rates, but for the moment it is not the case. ECB remains optimist in what concerns the economy for the second half of this year and they will be prepared to act if something goes wrong.
Wednesday the ADP Non-Farm Employment Change came under estimates and predicted low readings also for the NFP. On Friday, the Non-Farm Employment Changed surprised the market with 8 thousands new jobs above the expectations but a higher unemployment rate, 7.6%.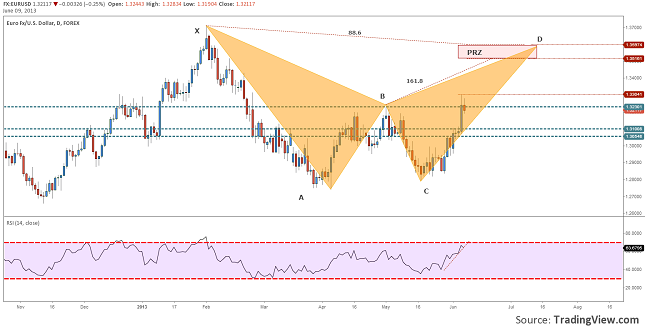 Chart: EURUSD, Daily
EURUSD rallied on Thursday the most. Draghi has triggered the run but Plosser speed up the engine which depreciated the USD during this speech later the same day. On Friday the economic data wasn't strong enough to bring the dollar back to the opening price of the past week. The Euro has gained 1.7% and remained pretty close to 1.33.
Looking over the daily chart we can see that on Thursday the close was above the previous highs and this is a positive signal which might announce a continuation of this up move.
Although I am not a fan of Harmonic Patterns on currency pairs, I observed that in the past EURUSD respected these types of patterns. If it will close again, on a daily time frame, above the current highs, meaning above 1.3300, we might see the Euro rallying to 1.35/36 where it will find the PRZ of a Bearish Bat. From there we will have to wait for new signals.
This is our favorite scenario at this point, but we will post new updates if anything will come up.
Wrap Up 3-7 June EURUSD Up 1.7% and Drawing a Bearish Bat
by
Razvan Mihai