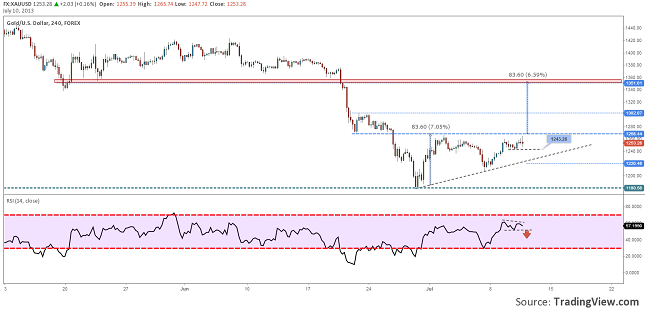 Chart: GOLD, H4
As it looks now, in our opinion, the answer would be not yet. The FOMC meeting minutes showed that there are more members that agree with the tapering of the Quantitative Easing program, but it wasn't specified the date for the start of the tapering. The speculated date was September this year, but it seems that the Federal Reserve has to see whether the unemployment rate is heading to 7%.
After the Minutes the dollar lost some ground, gold rallied to 1265$ per ounce but didn't stay too much there. In less than an hour Ben Bernanke will have a speech and the investors will keep their eyes and ears focused on what the Fed's chairman is going to say.
From the technical point of view, the price of gold encounter a good resistance area at 1268.00 level, that was tested 2 more times in the past 3 weeks, and could not pas. The bounce off 1265$ might mean that the pressure is still on the downside, even though it can be spotted an Ascending Triangle price pattern on the chart.
To wrap it up, during the speech of Bernanke we will look at the support 1243.30 and resistance 12568.45 key levels. Under the support the targets will be 1220.00, 1200.00 and 1180.00, while above resistance the price targets would be 1302.45 and 1350.00.