After the ECB press conference from last week and the good NFP for the United States, yesterday the Trade Balance and Industrial Production fell for Germany.
While already to the ground the Euro Area and the Euro currency take other kicks. Today it was announced that Greece will get the aid and everything seemed to be cooling down, Italy was downgraded to BBB from BBB+ by S&P.
The downgrade came after Asmussen brought other bad news for the Euro Area and knocked the Euro under 1.2800 with the US dollar. The German economist said that he would not rule out a new LTRO and that ECB forward guidance goes beyond 12 months.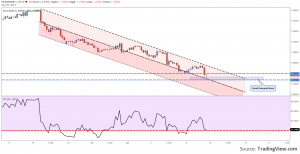 Chart: EURUSD, H4
The price for the EURUSD currency pair seemed to be stabilizing under 1.2900 level.  It did not last more than a day because after the statements of Asmussen and the downgrade of Italy the price fell fast under 1.2800 and hit a very good demand area at 1.2745. From here we can see a second reaction of appreciation.
The 14 periods RSI has drawn a positive divergence. This could be a signal that buyers will not give up right now, and that they now have backup.  From 19 of June the price has moved inside two equal downward channels.  At this point a drop under 1.2740 would be a signal that the price could accelerate on the downside. If the price will manage to get back up and break the trend line then we might see an interesting outcome.